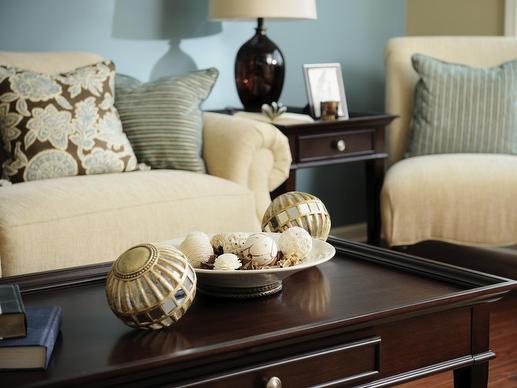 Home staging
There are thousands of home-staging consultants in business for good reason: staged homes sell faster. Why? Successful home staging enables a buyer to see themselves in your home, and not how you're currently occupying it.
Follow these simple staging tips and you are certain to see a better result:

1) Curb appeal sells. Cut the grass, trim the bushes, put down a new door mat and fresh flowers at the entrance. Fix damaged or cracked stonework. Parge the exterior of the basement walls below the brick line. Paint or replace doors and hardware. Check window and door caulking.

2) Clean the windows inside and out so that they sparkle.

3) Replace burned out light bulbs or upgrade the wattage on existing bulbs to add light yet again.

4) Open all the blinds and draw back the curtains to let in as much light as possible.

5) Forget using heavy scented plug-in air fresheners. Buyers are often adverse to strong perfumes and wonder if you are hiding environmental issues within the home.

6) Declutter, declutter, declutter. Open, airy rooms void of personal momentos allow a buyer to envision themselves living in the home. Buyers who are distracted by 'stuff' have lost focus on the most important matter at hand - buying your home.

7) Create clean, fresh rooms. Baths, sinks and faucets must sparkle. Floors should be swept, washed and/or vacuumed. If needed repaint walls marked and damaged by kids, pets or normal wear and tear.

8) Make sure the basement is well lit and dry. Leave space for buyers to walk around completely to inspect the foundation walls. Be sure to replace the furnace air filter and clean up the furnace room.

9) If you have too much furniture in a room rent a POD for temporary off site storage. You are going to be moving so you might as well get a head start parking if it will net you more money in the final outcome.

10) Define the use of rooms & spaces. If it's a bedroom upstairs don't leave it cluttered looking like a yoga room or part-time office. If you can't find the right use for the space the buyer won't feel they will either.

11) Closets! What can I say? Everyone always wants more space than they have. The more you thin out the excess and coordinate the look the less of an objection in a buyer's mind. Rule of thumb - if you won't be wearing it in the next 45 days it goes in a storage box in the basement or better yet find it a new home with a need-based charity.

12) If you are a seller who has a vacant property or unfurnished rooms that don't create the right impression in a buyer's mind then consult a qualified home staging company with a proven track record. Home stagers work within your budget so no need to fear them. Initial consultations are free.